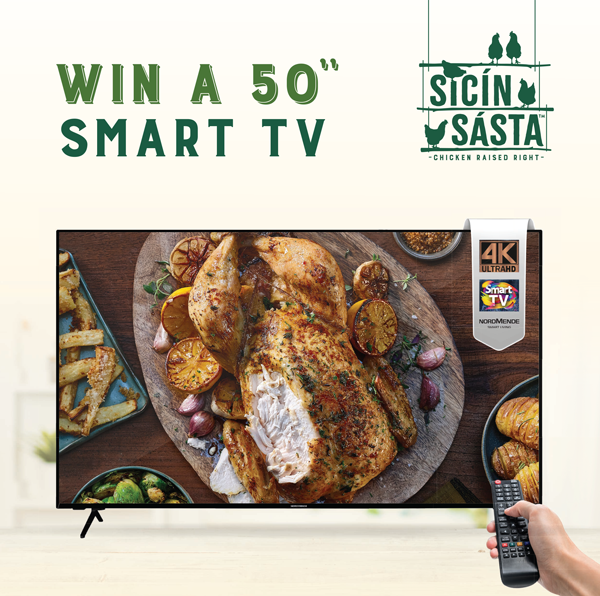 Terms & Conditions
Win A NordMende 50' Smart TV with Sicín Sásta
Sicín Sásta are offering you the chance to win A NordMende 50' Smart TV with Sicín Sásta. All you have to do is scan the QR code on pack, complete the entry form and enter the last 6 digits from the barcode of any Sicín Sásta pack in the space provided to be entered into the draw.
Please read these conditions carefully. These terms and conditions prevail in the event of any conflict or inconsistency with any other communications, including advertising or promotional materials. Entry instructions are deemed to form part of the terms and conditions and by entering this Promotion, all participants will be deemed to have accepted and be bound by the terms and conditions. Please retain a copy for your information. 

1. The Promoter is Sicín Sásta, Shercock, Co. Cavan. 

2. The *Competition runs from February 20th – April 30th 2022.
3. There are 10 NordMende ART50UHD 50' Smart TVs to be won, Image shown for photographic purposes only, colour may change depending on availability.

4. Promotional copy forms part of these rules. 

5. By entering this competition, entrants agree to be bound by the rules. 

6. Prizes offered as stated, no alternative cash or otherwise will be offered and no correspondence will be entered into. 
7. This competition is a completely separate competition from the in-store competition which offers a single NordMende ART50UHD 50' Smart TVs to be won in specific stores.

8. Winners will be selected on a random basis. The decision of the judges is final, and no correspondence will be entered into. 

9. Winners will be notified within 30 working days of the closing date . 

11. You can enter this Promotion if you are an Island of Ireland resident, aged 18 or over. Entry is not open to: (i) our employees or their immediate families; or (ii) anyone else professionally connected with this Promotion. We may require any information that we consider reasonably necessary to verify your eligibility. 

12. The promoter reserves the right to validate and verify winning entries 
13. To redeem your prize, you will be required to provide address and contact information. This information will be used to deliver your prize.
14. Please allow 28 days for delivery of prizes from date of contact. The promoter cannot be held responsible for delays in delivery of prizes due to availability issues. In the event of the model becoming unavailable, the promoter reserves the right to substitute a replacement model of similar or equal value.

15. We may, at our sole discretion, opt to re-award your prize to a reserve winner selected on the same basis as you in any of the following circumstances: (i) if you win a prize and you do not claim it by sending your contact details via text or email; (ii) if you win any prize and fail our verification or eligibility check; (iii) if you win any prize and are disqualified for any reason; or (iv) if you win any prize and you are unable to accept it for any reason. 
16. Only one prize per family or household address.

17. We reserve the right to verify all entries including but not limited to asking for address, identity details, and to refuse to award a prize or withdraw prize entitlement and/or refuse further participation in the Promotion and disqualify the participant where there are reasonable grounds to believe there has been a breach of these terms and conditions or any instructions forming part of this Promotion's entry requirements or otherwise where a participant has gained unfair advantage in participating in the promotion or won using fraudulent means. The Promoter will be the final arbiter in any decisions and these will be binding and no correspondence will be entered into in relation to this clause. 

18. We reserve the right to cancel or amend the Promotion and/or vary these conditions in the event of circumstances outside our reasonable control, or otherwise where fraud, abuse, and/or an error (human or computer) affects or could affect the proper operation of this Promotion or the awarding of prizes, and only where circumstances make this unavoidable. In these circumstances, we would always endeavour to minimise the effect to participants in order to avoid undue disappointment. 

19. To the fullest extent allowed by law, we will not be liable to you in respect of your inability to enter due to texting issues 
20. We will use the personal information we collect from you in order to administer this Promotion. Those providing an email address will receive the Sicín Sásta newsletter, which contains details on recipes, products and promotions, however you will have an immediate opportunity to unsubscribe should you no longer wish to receive this. 

21. If you win, you may be required to take part in unpaid publicity in connection with this Promotion. 

22. For the details of the winners' full name and county of The Main Weekly Prize Draw, visit http://sicinsasta.ie/winners
23. To the fullest extent permitted by law and excluding death or permanent injury caused as a result of the Promoter's negligence, the Promoter accepts no liability for loss or injury as a result of the Promotion or receipt or misuse of any prize. 

24. The promoter cannot be held responsible for any defect or fault which may arise with the prize. These will be covered by the manufacturers guarantee. In the case of any issue or fault, please contact NordMende. Each prize will be provided with guarantee details.

25. These terms and conditions will be interpreted and applied on the basis of Irish law and the courts of Ireland will have exclusive jurisdiction in respect of any dispute. 
26. No purchase necessary